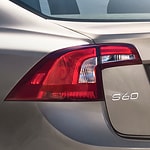 The Volvo S60 is a bespoke luxury compact sedan that has become the hallmark of its class. Volvo's high-end sport vehicle boasts several performance features that take the driver and passenger experience to new heights. The flexible transmission settings and start-stop technology are two such features.
The Volvo S60 comes with an eight-speed automatic transmission. You can actually shift the automatic transmission to the manual setting when you want that extra bit of control. The automatic transmission boosts fuel efficiency and makes for a smooth ride, whether you're cruising down the highway or navigating city streets on your way to work.
Reduce your fuel emissions with Volvo's start and stop technology. When you're stuck in traffic, the engine will automatically turn itself off, then restart when it's time for you to go. This feature is great for school pickups and drop-offs when you don't want to waste gas.
Come pay us a visit at Gengras Volvo Cars North Haven to try out the Volvo S60 during a test drive.